One of the most pleasurable duties of he RNS is to award a range of prizes, most of them in memory of former members of the Society, in recognition of outstanding work done in service of numismatics. Further information about the Society's honours and awards can be found here. This year the Society has awarded three prizes (the Lhotka Memorial Prize, the Parkes Weber Prize and the Samir Shamma Prize for Islamic Numismatics), the results of which will be presented in three consecutive posts on this blog over the coming days.
Lhotka Memorial Prize
The Lhotka Memorial Prize was endowed in 1962 by the late Honorary Fellow, Professor J.F. Lhotka (University of Oklahoma), in memory of his father, Dr. J.F. Lhotka.
It is awarded to the author of the book or article in English considered most helpful to the elementary student of numismatics and published in the previous two calendar years. Previous winners can be viewed here.
In 2018 it was decided to award the prize to two authors, whose different but excellent works were judged to make equally valauble contributions to the promotion of numismatic study. These are:
Dario Calomino (2016) Defacing The Past: Damnation and Desecration in Imperial Rome, Spink, in collaboration with the British Museum.
'Like many rulers, Roman emperors used inscriptions, sculptures and coins to project their authority. But the imperial image could be outraged and subverted for political and religious reasons. The memory of Roman emperors and high-ranking officials could be officially condemned after their death through a process known as 'damnatio memoriae', meaning that a person's memory was attacked and largely erased. This was particularly true if rulers were overthrown or executed. Their names were erased and their portraits defaced. Imperial images were also mutilated and destroyed by Rome's enemies to contest the imperial authority.'
This volume is available to purchase via Spink and Co. Ltd here.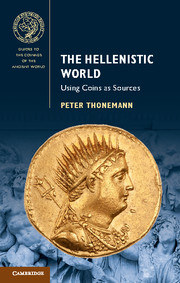 Peter Thonemann (2016) The Hellenistic World: Using Coins as Sources, Cambridge University Press.

'Coinage is one of our key sources for the rich and fascinating history of the Hellenistic world (323–31 BC). This book provides students of the period with an up-to-date introduction to Hellenistic gold, silver and bronze coins in their cultural and economic contexts. It also offers new perspectives on four major themes in contemporary Hellenistic history: globalisation, identity, political economy and ideology. With more than 250 illustrations, and written in a lucid and accessible style, this book sheds new light on the diverse and multicultural societies of the Hellenistic world, from Alexander to Augustus. The author assumes no prior knowledge of Hellenistic history, and all Greek and Latin texts are translated throughout.'
This volume is available to view and purchase via Cambridge University Press here.